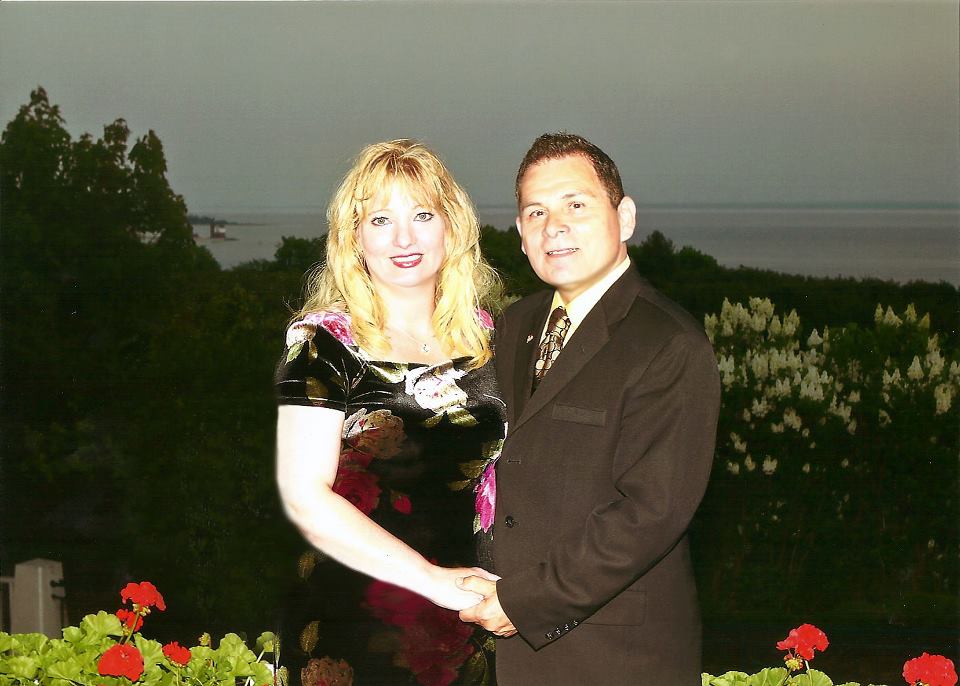 06 Feb

Featured Follower: Dawn Garcia

Dawn Garcia is an author, a database administrator and a worship leader. Lately, she has embarked on a journey of translating her struggles into Christian fiction. On my personal Twitter account, you'll see that she's an active member in my community.

What does a week in your life look like?

Sunday mornings are spent getting ready for church service. My husband and I pastor True Life Covenant in Clio, MI. I lead worship and sometimes teach, but most Sundays, my husband (pictured above) gives the message.

Monday-Friday, I work as a Database Administrator at Saginaw County Mental Health in Saginaw, MI. It is a rewarding job and I work with wonderful people in a friendly environment. In the evenings, I enjoy relaxing with my family. We are trying to incorporate a family game night, but we're not doing too well at sticking to it!

The extra things that I somehow manage to fit in during the week include writing (I self-published my first novel and a novella in 2014); managing my two websites (YTLChurch.com and GodsGhostBusters.com); and going back to college. My husband and I enrolled in Jonathan Welton's Supernatural Bible School and will graduate in June 2015.

What are you passionate about and how do you live that out in your life?

My passion is to help people grow by teaching them and showing them God as HE TRULY IS, not how religion has made Him to be.

I want to teach others that God loves them right where they're at. People too often believe we have to quit smoking, lose 20 pounds, and dump our cheating girlfriend before God will gaze his judgmental-holier-than-thou-laser-beam eyes upon us and consider letting us become a part of his "club." We live life with dread and in fear, believing he is constantly angry or disappointed in us. This is a LIE! If I get a person to see himself as God sees him, then I completed an amazing goal.

If you could share one tip or wisdom that you've learned in your lifetime, what would it be? What is the story behind that?

My tidbit of wisdom is to know who you are in Jesus. Too often, I lived my life in a performance-based reality. I needed to be perfect. Why? Because my life was anything but perfect. I stayed up late every night to clean my house, making sure everything was in its proper place. I threw myself into my work.

The truth was that my life was a mess. My marriage was failing, but it took years for me to face it. Being raised as a Christian and ending up as a divorced woman was something I never wanted. Months after the divorce, the opportunity came for reconciliation with my husband. I jumped at it. We would have a success story. Things would be different this time.

People in the church told me this was what God wanted. My second marriage to him lasted ten years. But thank God, a couple in the church loved me enough to help me get out of the marriage.

Through all of this, I found me. I began to believe that I wasn't a failure.; a fake Christian; unlovable. I began to see me as God sees me, not perfect, but being perfected in Him and through Him. I was valuable; a treasure to Him. And so are you. You are a treasure to Him—no matter where you're at or what you've done or haven't done—He loves you right now in this moment. He will never love you more.

Tell us more about the novels you've written.

"Flawless: Perfection has a Price" is a story that took me nine years to write and another five years to gather enough courage to publish. Flawless is near to my heart—not only because it is my first novel and took an eon to write, but because the emotions, feelings, and struggles that my character reveals are very close to my own. I know that when I wrote this, I needed a hero, so I created one. I needed to know that God was bigger and better than I was ever taught, so I expanded what I knew of Him.

My second work, "The SIA: Are You Haunted?" is about a young woman, Tess, who is a ghost hunter. She doesn't believe in ghosts—at least not in the manner that Hollywood defines ghosts. She sees … weird things. She was dismissed by the church as "crazy" and "delusional." She finds religion shallow minded and harsh—at least within the few churches she has encountered … until she meets Pastor Noah.

@GarciaDMAuthor  &   Author.to/DawnMGarcia

Thanks for sharing your story with us Dawn! Best of luck writing your next novel!

I will be featuring followers on my website every so often. I love hearing stories and tips from people in the real world, and this is a way that we can together create an online community of sharing insight and experience. The way it works is I will pick an engaged Twitter or Facebook follower and send them a brief interview. I'll then feature them on our Friday blog!